Exploring Unique Applications For Garden Sheds
Steel garden sheds can now be used for more than just storing garden supplies and tools. These adaptable structures provide a plethora of opportunities for inventive and imaginative uses outside of their primary function. Steel Garden Sheds for Sale Ireland can be customised into distinctive and useful rooms that meet your own needs and interests, from serving as dedicated living areas to serving as personal hobby spaces.
You may open up a whole new world of possibilities for your backyard space by thinking outside the box and embracing the adaptability of these constructions. Join us as we examine a variety of creative settings, including lively workshops, peaceful meditation areas, and serene garden retreats. Prepare to realise your shed's full potential and make it a spectacular improvement to your home and way of life.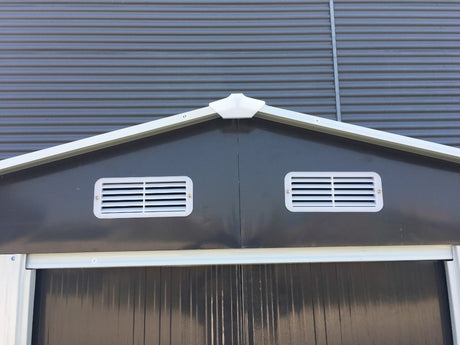 Crafts Workshop Or An Art Studio 
Convert your shed into a purpose-built art or craft studio. You can release your creativity and pursue your artistic endeavours in an area with lots of natural light and privacy from outside distractions. Organise your art equipment, set up easels, and create a creative space where you can focus on your skill. Whether you prefer making crafts, paintings, or sculptures, having a dedicated area for your artistic endeavours can considerably improve your artistic experience.
Office At Home Or Studio 
A steel shed might be a great option if you need a home office or a place to work on your creative endeavours. Make the inside your own by adding a desk, cosy seats, and appropriate lighting to meet your needs. Enjoy working in peace and quiet away from the noise and distractions of your home. They can offer the seclusion and concentration needed for activities like writing, graphic design, or small business management. Make your shed a distinct area where you may encourage creativity and productivity.
Outdoor Retreat 
Your Steel Garden Sheds for Sale Ireland shed can be transformed into a comfortable haven in the garden. Create a peaceful area for rest and meditation by furnishing it with cosy seating, adding potted plants, and adding soft lighting. Within the beauty of your garden, this refuge can serve as your own private oasis. You can relax there, read a book, or engage in some mindfulness exercises. While allowing you to fully immerse yourself in the natural environment, the steel construction will be durable and weatherproof.
A Playhouse Or A Refuge For Kids 
Convert your shed into a playhouse or kids' hideout to give your kids a special area to play and let their imaginations run wild. To create a beautiful area where their imaginations can run free, paint the exterior in vivid colours, add kid-sized furnishings, and incorporate toys and activities. Your children can find countless hours of pleasure and inspiration in this designated play area. It provides kids with a fun and safe environment where they may explore, act out, and engage in imaginative play with their friends and siblings.
Recording Studio Or Music 
A Garden Shed For Sale from LifestyleOnline.ie can be transformed into a music or recording studio for music lovers or aspiring musicians. Set up your instruments or recording equipment, add suitable lighting, and soundproof the inside. Having a separate room for practising, recording, or just enjoying your passion for music is a creative and economical way to do it. The sound-insulated walls will reduce outside noise, enabling you to listen to your music uninterrupted. Take advantage of this area to improve your abilities, create songs, or even launch your own home recording studio.
A Workspace Or DIY Area
A steel garden shed can be converted into a fully functional workshop or DIY area by those with some mechanical ability. Create a practical workstation where you can easily do various projects by setting up workbenches, storing your supplies, and other necessary items. Having a specialised workshop can boost your productivity and creativity, whether you enjoy metalworking, woodworking, or creating. For your tools and projects, the steel construction ensures durability and offers a secure atmosphere. You can work on your hobbies and do-it-yourself projects in this workshop without taking up important inside space.
Plant Nursery Or Greenhouse
Make a greenhouse or plant nursery out of your shed. Build a space that is excellent for growing plants and seedlings by adding shelves and a watering system. No matter, if you're a seasoned gardener or a budding botanist, having a special place to grow plants, will help you develop a green thumb. You may extend your growing season or experiment with a wide range of flora thanks to the steel structure's superb insulation and protection for fragile plants. Create a blooming paradise in your backyard by embracing your passion for gardening.
Indoor Gym 
Make an area for exercising at home by converting your garden shed. Install weights, cardio machines, and yoga mats in your home gym to fit your training regimen. You can exercise on your own time without needing a gym membership if you have a specific training area. You may achieve your fitness objectives in the convenience and privacy of your own backyard thanks to this practical setup.
Cottage For Guests Or Airbnb Rental 
Utilise the extra room a steel garden shed offers by turning it into a guest cottage or Airbnb rental. You may provide your visitors with a cosy and quiet refuge by using the right insulation, furniture, and utilities. A guest cottage or rental apartment enables you to offer a warm lodging alternative for visitors or potential guests, whether it's for friends and family or as a source of additional money.
Home Winery Or Brewery 
Consider converting your shed into a home brewery or winery if you enjoy drinking beer or wine. Install the tools required for fermenting wine or brewing beer, set up a tasting room, and enjoy the craft of making your own libations. You may explore the world of brewing and winemaking with this inventive use of your shed, keeping your hobby distinct from your living space.
Kitchen Or Barbecue Area Outside 
By transforming them into an outdoor kitchen or barbecue area, you may bring your culinary talents outside. Install a grill, counters, and cabinets for storing ingredients and utensils. With this arrangement, you can enjoy cooking and hosting guests in your garden while keeping all of your kitchen necessities close at hand.
Shelter For Animals Or A Salon
Consider using these spaces as a pet shelter or grooming station if you're an animal lover or pet owner. By including bedding, toys, and pet-friendly accessories, you can make your room comfortable for your four-legged pals. As an alternative, you may build up a grooming area with bathing facilities and grooming equipment. You can give your dogs the needs they require in a secure and dedicated location thanks to this section.
From Storage To Inspiration 
Garden Sheds For Sale by LifestyleOnline.ie offer countless opportunities in addition to serving as storage units. You may make them into uniquely you environments by thinking outside the box and making them reflect your passions, interests, and hobbies. The only restriction is your creativity, which includes playhouses, garden getaways, and creative studios. Utilise the adaptability of steel garden sheds to design a space that improves your way of life and realises your creative aspirations. A steel garden shed can offer the ideal answer whether you're looking for a tranquil haven, a useful workstation, or a location to foster your hobbies. Unlock the full potential of these extraordinary constructions by letting your creativity soar.